Product Material
We have large selections of crystal awards and business gifts made available with high-end, high perceived value raw materials. All of our crystal and glass recognition awards can be individually personalized with your logo, text and artwork. Rest assured, quality and value in our truly exquisite crystal awards are never compromised. The secret to our crystal award popularity lies in our high-quality deep etch sandblasting process. You can see and feel the richness and detail produced by the superb craftsmanship of our crystal engravers. Whether given as a premium or in recognition, the lasting beauties of our crystal creations are always appreciated.
Optical Crystal:
Among the finest of all crystal, our collection in made from the highest quality raw materials available resulting in absolutely clear and flawless crystal. Optical crystal is manufactured in large sheets then pressed under enormous pressure to ensure it has no bubbles or distortions. Our optical crystal awards are made from the same materials used in camera lenses, NASA telescopes and high-end visual equipment. Unlike Lead Crystal, optical crystal is lead free which is perfect for all kinds of engraving methods though we choose to sand blast, which provides the highest quality etch. Each piece is hand polished and beveled to perfection to achieve a mystical refraction. Clear, black, blue, pink, green and amber accents are also used in our Optical Crystal Awards and Gifts collection for a more contemporary design.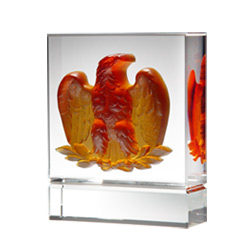 PATE DE VERRE - THE LOST-WAX TECHNIQUE
The creation of items in pate de verre through the "lost-wax" technique is a time-consuming process requiring abundant skills. The results of the successful application of these skills are true works of art, possessing a unique translucency, texture and substance, which can not be achieved with blown glass or molded glass. A contemporary revival of this French ancient technique is used to emphasize in bas-relief and incredible detail; that is combined with pure geometric optic crystal for a unique designer collection of thematic pieces designed for personalized awards and corporate gifts.
See more information about manufacturing process.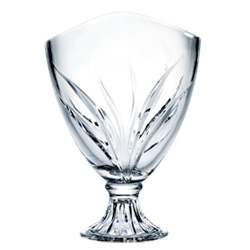 Lead Crystal:
We proudly include this designer line of 24% Lead Crystal Vase and Award Cups from Top European Designers to our collection. Each of our vases and bowls were created with large engraving areas to ensure plenty of space to add all your text and logos. Each piece is mouth-blown and deep hand-cut with the utmost care and passion for a noble and traditional art. This collection is treasured for its artistic value, which will continue to increase in time. A few bubbles and flaw lines are inherent to the nature of manufacturing. The 24% lead content enriches brightness, weight and hardness, while still ensuring clarity, sparkle and brilliance. Proposition 65 WARNING: This Product contains Lead and/or Cadmium, chemicals known to the State of California to cause birth defects or other reproductive harm.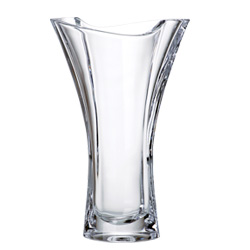 Molten Crystal:
The process of manufacturing Molten Crystal has been innovated. Thanks to a new and exclusive formula known for its composition of high quality and pure raw material. Our Molten Crystal products imported from Europe are modestly priced and showcase strength and brilliant clarity without containing any lead content. This new formula conforms to health and environmental safety requirements making it ideal for molded Vases and Drinkware. Minor bubbles and flaw lines are considered acceptable due to the nature of molten manufacturing process.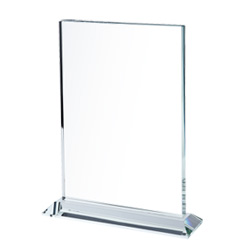 Clear Glass:
Our Clear Glass is a lead free, low iron product. Lower iron content results in a lighter green tint than compared to Jade Glass. Clear Glass mimics the high perceived value of Crystal but at a more cost-concious price point. The raw material for these glass sheets are only available in certain thickness, which complies with the highest quality standard. The beautiful polish and beveling on each piece creates a brilliant reflection that has a slight white fiery sparkle, giving it the name.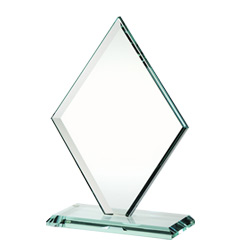 Jade Glass:
The light green pigmentation on these beautiful yet economical glass awards is caused by its iron ore content. Each piece is hand polished and beveled to achieve its sparkling edge and delicate facets that bring out the beauty. The jade coloring is only available in glass awards. The raw material for Jade glass sheets available only in 5/8", 1/2", 3/8" and 3/16" thickness.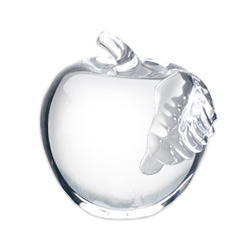 Molten Glass:
Molten glass is a molded clear glass product without lead content. A mixture of sand, recycled glass and other materials are used to create molten glass products with a shaping mould. Variation in color, size and finish is inherent. In a melted state after the ingredients have been combined at a high temperature and liquefy the batch, it is then allowed to cool until it is plastic and shapeable. Bubbles and flow lines are considered acceptable.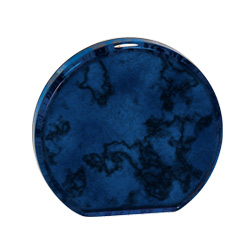 Acrylic:
Our selection of Premier Acrylic Awards is an economical choice and has many of the same characteristics as Glass and Crystal awards. Acrylic is shatter-resistant and provides a clean and professional frosted appearance. The advantage of Acrylic material is that it can be transformed into virtually any shape or color. The softness of the material allows the laser engraving technique to yield sharper and more vivid images than laser engraving on glass/crystal. The range of creative expression is virtually unlimited.
*Due to the soft nature of the material, Acrylic items are more vulnerable to light scratches or flaw lines.